Why I've always considered R.E.M. a favorite band of mine. I can listen to an album of theirs from 20-25 years ago and joyfully sing along to every song like it's the natural thing to do.
It's really difficult to find a band who had a more consistent output of outstanding material in the eighties (U2 is close, but "October" and "Rattle and Hum" fall just a little short). These pioneers from Georgia brought the whole jangle pop to a new forefront and finally worked their way into the pop mainstream by the end of the decade. I could enter any of their albums, "Murmur", "Fables of The Reconstruction", "Life's Rich Pageant"...they're all great. I'm throwing in "Document" today. It's the point where they had their last album with the independent label I.R.S., it's where they had their first top ten hit "The One I Love", where they started collaborating with producer Scott Litt, and I still am refreshed to hear any "Document" songs jump out on a shuffle mix.
"Take your instinct by the reins, It's better best to rearrange." ~ The Finest Worksong
You can start with the singles. "The Finest Worksong" jumps along on Peter Buck's guitar line and I love how Mike Mills bass line lazily catches up before it starts into the verse. As Michael Stipe sings "The finest hour.." and Mills always great backup vocal gives out an "ohhh,ahhh", you've got a start worth listening to the whole album. "The One I Love", the one that got hooked up on every radio station in 1987, also has that great back and forth vocal interplay between Mills and Stipe with Stipe firing out "Fire" in the chorus and Mills bringing in "She's coming down on her own now." It's an obtuse song..one that could be looked at as a love song "This one goes out to the one I love" or an anti-love song "A simple prop to occupy my time". Either way, I've always enjoyed it. "It's The End Of The World As We Know It" has been mumbled and studied by anyone who's ever listened to the band to try to nail down all the lyrics...I still couldn't do it if I tried, neither can Stipe who once said he keeps the lines on paper to sing in concert. In a way it's like Dylan's "Subterranean Homesick Blues", but it wouldn't work if there wasn't a sweet chorus, to break up Stipe's vocal burst verses, referring to the title and the assured feeling that "I feel fine" and backed with the "Time I had some time alone" harmony. Anyone growing up in this time period or after would try to reconstruct the parts driving around as a group in a car (or maybe that was something we did).
The One I Love
It's The End Of The World As We Know It (And I Feel Fine)
Finest Worksong
"A stampede at the monument/To liberty and honor under the honor roll" ~ Disturbance at the Heron House
Three outstanding singles are the cornerstone to any great album, but when the other tracks crackle with energy, then you've got an outstanding album. "Disturbance At The Heron House" may be my favorite album track from these guys with Peter Buck's great guitar work. Following in the same lyrical political vein, you've got "Welcome To The Occupation" (a political class statement?) and "Exhuming McCarthy" (a look at McCarthyism...loyal to the bank of America). It's the first time Stipe's political tendencies come to the forefront and they don't strangle the songwriting. Actually, they just add another layer of depth and fiery passion to the songs. Different instrumentation is added as well with the great use of saxophone on the "Crazy, crazy world" of the the rustic "Fireplace" and dulcimer to Bill Berry's drumming march on "King Of Birds". "Standing on the shoulders of giants....leaves me cold." Indeed.
Disturbance at the Heron House
Welcome To The Occupation
Exhuming McCarthy
Fireplace
King Of Birds
"Wash off the blood/Wash off the 151" ~ Oddfellows Local 151
Also present is an upbeat version of Wire's "Strange", so upbeat and partylike compared to the original's cold and menacing tone that you could pick one for either mood you're feeling that day. I've always liked the frenzied nonsense of "Lightnin Hopkins" with Stipe's call of "Crow" and Buck's crawling guitar. And the album wraps up with the slow burn of "Oddfellows Local 151" or as some people may remember it as the "Firehouse" song.
Strange
Lightnin Hopkins
Oddfellows Local 151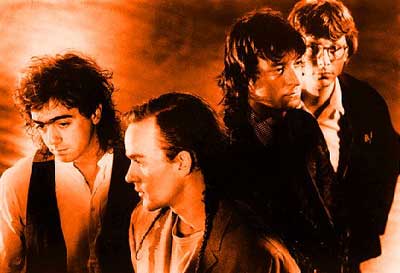 I've always loved the harmony Stipe, Mills and Berry brought to their songs (I never thought Bill Berry leaving the band in 1998 would drop their material some, but it did), here they deliver in spades. I've always thought Buck delivered sturdy guitar lines, on "Document" he delivers some of my favorites. I've always loved Stipe's cryptic but yet singable lyrics, on "Document", their is tons to sing and reminisce with. "Document" may not be their best, it may not be their most experimental, and it may not be R.E.M.'s most groundbreaking work. But sometimes you don't need those elements for a band to release one of your favorite albums. And "Document" is one of my favorite albums from R.E.M. and all time on account of a great batch of songs. And I feel fine.